"The most wasted of all days is one without laughter." - E.E. Cummings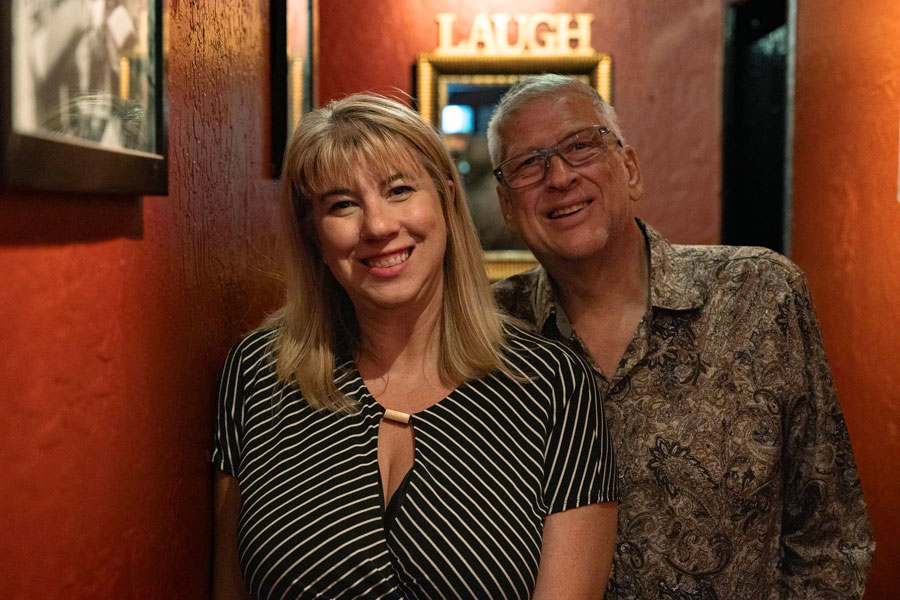 Dave and Angela Dennison, owners of Laughs Comedy Club, are bringing comedy to Seattle's U-District. Dave is both a stand-up comic himself and an experienced restaurant manager. He puts that winning combination to use every day. After attending UCLA and California Polytechnic, Dave earned his degree in Restaurant and Travel Management. He then managed a series of restaurants and comedy clubs in California and Utah. He was invited to compete in Seattle's International Comedy Competition in 1997. He met Angela at an open mic night at Kirkland's Pegasus Pizza in 2002, and it was love at first laugh.
After undergoing an architect designed extreme makeover, Laughs Comedy Club has an intimate feel. It can hold up to 200 customers, and every seat has an unobstructed view of the stage. A state of the art sound system allows all of the great comedy to be heard in every corner of the room.
Dave is in charge of booking the acts, and uses his extensive contacts with nationally known comedians, agents and managers to bring the great headliners to the stage. He and Angela regularly attend the Just for Laughs comedy festival in Montreal, Quebec to scout out rising stars and boost their careers by inviting them to perform at Laughs.
Angela was named as one of the "Eastside Women Entrepreneur's Leading Ladies" by 425 Magazine. A select group of the top business women on the eastside. Angela handles the day to day operations as a business powerhouse while she is not working her other full time job as an oral surgeon's assistant. Stop and say Hi to Angela, you might get comp'ed.
The club is open Wednesday – Saturday, with one or two shows per night.
Thursday is "Comedy Showcase Night" where up and coming comedians audition their sets and professional comedian work out new material. It is a good time to see these fresh acts. Doors open at 7:00pm and the show starts at 8:00pm.
Headliners are featured on Friday and Saturday nights. Show prices are normally $15 or $20 with a minimum two item purchase requirement from the food and beverage menu. Get the best price for tickets by ordering online through our website or ticket vendor, Eventbrite. Tickets can be purchased at the door. Tickets purchased at the door may be price adjusted to account for staffing costs and credit card fees.
Laughs Comedy Club can host large parties, banquets and events on Sunday, Monday and Tuesday with full kitchen and entertainment services. Check our Book a Party page for more information.
There are many ways to increase your enjoyment of the entertainment that Laughs has to offer. We suggest you check us on Facebook and Instagram and get our newsletter to receive the best value and best deals in your entertainment choices.